Nowadays, marketing and advertising your business is becoming more technical, literally. Technology is taking over the entire system, therefore making it necessary for you to utilize technology as well. Millions of people are using their smartphones to access websites, read blog posts, and get coupons or special deals for local businesses. By learning how to incorporate QR codes into your marketing method, you can reach more customers.
What Are QR Codes?
QR code stands for Quick Response code. It is a two-dimensional (2D) barcode made up on square pixels, instead of the bars in a traditional barcode. They can be scanned from any device that has a barcode scanner, such as with your smartphone or tablet. QR codes are currently used in social media and mobile marketing, as scanning it offers a number of benefits.
The Benefits of QR Codes
With QR codes, you and your customer are benefiting from the exchange. You are getting more clicks to your website, blog, or social media network. This gives you the opportunity to talk about new products, deals or otherwise important information. It can even help with generating sales leads and having users sign up for your mailing list. Users and customers benefit by getting exclusive discount codes and the first look at new promotions.
Making Everything Mobile-Friendly
To start off, make sure your QR code is mobile friendly. This should seem obvious, but during the testing stage, you will make sure all codes can be scanned by a mobile device. The scanning of the code and where it points to should be applicable with a mobile device, whether it's linking to a coupon, blog post, social media profile or product page. Keep in mind the size of the screens so it is easy to use with a smartphone or tablet.
Where to Place QR Codes
Next, do some target customer research and find out where your customers are most likely to access the QR codes. The four most popular places to scan a QR code are magazines, product packaging, mail and posters. Start there and find out what magazines, promotional materials or packaging you can place the QR codes on. For example, local pizza places tend to place QR codes on the insert that comes attached to all pizza boxes.
Write Detailed Instructions
When you are advertising the QR code and trying to get people to click on it, describe how to use it and exactly what they will get. Sure a few people will click a barcode if it isn't labeled, usually out of curiosity, but the conversion rate is extremely low. Instead, write a blurb near the QR code, explaining where it leads or what the benefit is to using it. This increases the amount of scans it gets exponentially.
Multi-Media Campaigns
QR codes are best when used on multiple campaigns. Don't just include them on magazines or promotional mailing materials, but everywhere you can, so long as there is a purpose for wanting them to interact on their mobile device. Did you know these barcodes can be scanned through the television with a mobile device (so long as you give them plenty of time)? They can and should. Include them in mailing materials, on product packaging, and marketing postcards. By utilizing multiple media channels, you're increasing the number of scans you get.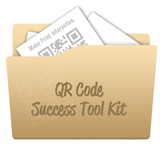 Include a Call-to-Action (CTA)
Even with QR codes, a call-to-action is important. Your CTA is what takes the user or customer from reading about something, and actually doing it. Not only where you are placing the QR codes should there be a short CTA, but on the digital product or site it leads to as well.
Test the QR Codes
Always test your QR codes. Not only when you first develop it, but gradually to be sure it is still working. You're testing to be sure it works from different devices, including where it leads to. Use more than one mobile device to scan the code, making sure each page works perfectly.
QR codes are a great new piece of technology to include in your marketing plan. They are easy to implement and encourage use by people who often have their phones with them. It is also considered mobile marketing, which continues to grow in popularity due to how many people use their phones or tablets on a daily basis.
Use your Resources
Stay on top of new strategies, design tips, and more. For the latest, check out the QR Code Success Tool Kit at TheQRToolKit.com.
Looking to create and track your QR codes? Try QReate and Track today!