"Spook Country," the 2007 novel by William Gibson, introduced the concept of "locative art" to the reading public. Gibson's character Hollis Henry is constantly searching for works of art with her smartphone; art that Gibson describes as akin to techno graffiti.  His descriptions of art tied to a particular GPS location and viewable with a smart phone or VR glasses include a virtual image of  F. Scott Fitzgerald dying at the very spot in Hollywood where he had a fatal heart attack, and Archie – a 90 foot giant squid (Architeuthis for those in the know.) In the book, Archie was designed as a display for a Tokyo department store with "an endless rush of digital imagery along Archie's distal surface."
The Museum of Vancouver took a page from Gibson's book this month by launching their augmented reality museum app "The Visible City." Truly a work of locative art, Visible City enables a walking tour augmented by your smart device in which the tourist sees the streets of Vancouver as they were in their "neon era." The application overlays pictures and interviews with local personalities to create an immersive experience.
However, augmented reality today is as much about commerce as it is about art. Like the Tokyo department store in Gibson's novel, retail is the main early adopter. Major brands realize that the opportunity for consumers to interact with products in retail locations can drive sales. There are many examples of AR used for product marketing including LEGO toys, Heinz Ketchup, Budweiser and Audi. While the first three involve interactions at the point of sale, Audi used Metaio to develop an AR enhanced brochure and a virtual users guide (it's in German – but it's so clear it doesn't matter.) There are also numerous examples of catalogs enhanced with augmented reality apps to deliver 3D product views as the reader directs their smart device at a specific item.
While the early adopters were in retail, other brands are getting on board, most recently PNC bank with their Finder AR-based bank locator app. It's really not anything that couldn't be accomplished with a Google search or asking "Siri, where's the nearest PNC Bank?" Nonetheless, it demonstrates the conservative banking industry's interest in embracing the new cool thing.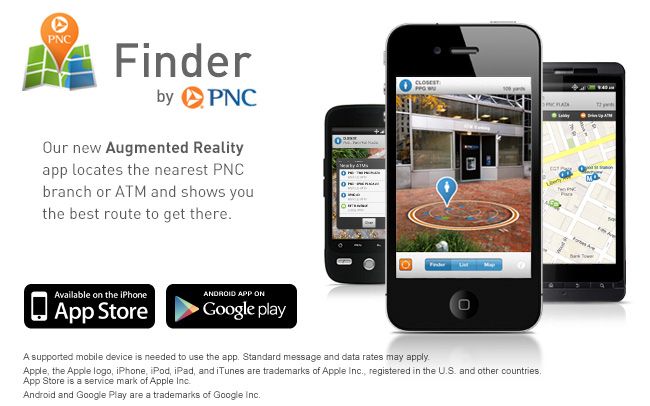 Direct Marketing is a natural fit for augmented reality; just ask Omni Hotels and Resorts. Omni-live, their AR app was released in June and is part of a multi-media campaign tailored to meeting and events planners. It includes print, social media, online video and web advertising in concert with augmented reality. In addition to making the campaign more interesting and interactive, AR also makes the campaign more measurable. As soon as the consumer launches the app, the marketer knows that the campaign is being read and how much time the consumer is interacting with the contents. With a really well done virtually reality application, consumers will return again and again.
There is also potential for AR with transaction printing from mundane explanations to incredibly creative advertising. With AR, a financial institution or wireless/internet/cable provider could virtually welcome new customers on board walking them through their statement or invoice and offering detailed instructions (like the Audi user manual above.)
There are plenty of agencies and AR developers out there ready to partner with you to bring new services to your clients. All it takes is a creative vision of how your current print products can deliver more value. Adding a virtual layer between the reality of print and a virtual world revealed through smart apps is the next step in business communications – are you ready to take that step?
For a nice primer on Augmented Reality (written well before AR was on the tip of people's tongues) visit Common Craft's Youtube presentation (sorry, there is advertising on the site.)
 Elizabeth Gooding is the President of Gooding Communications Group and editor of the Insight Forums blog. She writes, presents and provides training on trends and opportunities for business communications professionals within regulated vertical industries.